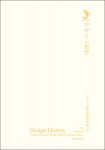 Contents
Editorial
About the DHWJ
Editorial Policy
Editorial Board and Editorial Advisory Board
Articles
A Political and Economic Change in Naxi People's Tompa Characters in Lijiang, Yunnan Prefecture in China since the 1990s / Gao Qian
Architecture and Furniture Design in Modern Japan: The Case of Kogure Joichi / Sarah Teasley
Book Reviews
Kawahata Naomichi: Hara Hiromu to Bokutachi no shin kappan-jutsu (Hara Hiromu and Our New Printing Techniques) / reviewed by Iguchi Toshino
Alison J. Clarke, Tupperware: The Promise of Plastic in 1950s America / reviewed by Omoya Shinsuke
Noise
Metamorphosis of the Design Dialogue / Leimei Julia Chiu
Guidelines for Submission of Manuscripts
Constitution and Bylaws
Notes on Contributors
–
How to Order Your Back Issues 
 
---
Editorial
About the DHWJ
Editorial Policy
Editorial Board and Editorial Advisory Board
---
Article 1
A Political and Economic Change in Naxi People's Tompa Characters Lijiang, Yunnan Prefecture in China since the 1990s
Gao Qian
Keywords
Tompa Characters, Reform and Opening-up, Tourist Policy, Cultural Protection, Naxi People, Lijian, China
Abstract
Since embarking on policies of reform and opening-up in 1978, China has gradually lifted restrictions on culture and religions and actively developed various economic policies. As part of this process, the Tompa scriptures written in Tompa characters were successfully registered as a UNESCO World Heritage in 2003.
Tompa characters were originally pictographs used by Tompas, the priests of the Tompa religion, for writing their beliefs in the scriptures. The Tompa religion, which emerged from the ancient culture of the Naxi people of northwest China, mainly at Lijiang, culminated in an ascension to power in the Eleventh Century, but then declined and was near-dead by the time of economic reform and opening-up after 1978.
In the mid-1990s, the Lijiang local government decided to use Tompa characters as a means of developing tourism and trade in the area. The policy has dramatically given Tompa characters a great cultural impact. This article focuses on how the meanings and roles of Tompa characters have changed in political, economic and cultural context up the present day.
---
Article 2
Architecture and Furniture Design in Modern Japan: The Case of Kogure Joichi
Sarah Teasley
Keywords
Kogure Joichi, Taisho Japan, Woodworking, Furniture and Architecture, Housing Improvement, Architectural Institute, Publishing Culture
Abstract
Japanese furniture designer Kogure Joichi's comprehensive suggestions for the architecture, interiors and furnishings of the modern urban middle-class home subsumed architectural and design practice into the ideological creation of a total living environment. Trained as an architect, Kogure helped pioneer Japan's western-style furniture industry in the 1910s, before broadening his scope to include housing design and lifestyle reform around 1920. Kogure used all available media to disseminate the message that improved domestic space was the key to modern life, where 'improvement' meant the replacement of 'traditional' tatami with 'modern' chairs and hard floors in a new house or renovated vernacular dwelling. Thus, Kogure valued furniture and dwelling spaces as tools enabling a new way of living and being. However, as a woodworking specialist, his activities in architectural circles were confined to suggestions for furniture refom.
This paper interprets Kogure's writings and designs against architectural culture and vernacular domestic space in 1910s and 1920s Japan. It considers Kogure's use of furniture in the daily life improvement movement, and proposes that while his design practice encompassed architecture, interior design and furniture design, his confinement to the domestic sphere reflects a division between architects, who claimed public buildings as the most visible stage for national modernity while also publishing house designs, and designers and social reformers, who concentrated on the home. Finally, it examines Kogure's understanding of the necessity of involve women – not usually included in architectural and design discourse – in the creation of the home as a comprehensive living environment, and analyzes his use of mass media to this end.
---
Book Reviews
Kawahata Naomichi: Hara Hiromu to Bokutachi no shin kappan-jutsu (Hara Hiromu and Our New Printing Techniques) / reviewed by Iguchi Toshino
Alison J. Clarke, Tupperware: The Promise of Plastic in 1950s America / reviewed by Omoya Shinsuke
---
Noise
Metamorphosis of the Design Dialogue / Leimei Julia Chiu
Guidelines for Submission of Manuscripts
---
Constitution and Bylaws
---
Notes on Contributors