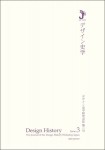 Contents
Editorial
About the DHWJ
Editorial Policy
Editorial Board and Editorial Advisory Board
Articles
Developing a Collection of Japanese Art in Britain: A Case Study on Yamanaka and Company / Monden Sonoko
The Influence of Ruskin and Morris on Yamamoto Kanae's Peasant Art Movement / Tsujimoto Yuki
Special Contributions
Views on the Japanese Design in the Post-war Period of Reconstruction / Nakayama Shuichi
Design History Research Memories / Toshimitsu Isao
Post-war Design Education / Hino Eiichi
Design Promotion Administration / Koseki Rikiya
Along with the GK Industrial Design Associates / Sone Yasumi
Book Reviews
Hara Kenya, Dezain no Dezain (The Design of Design) / reviewed by Harikai Aya
Yuko Kikuchi, Japanese Modernisation and Mingei Theory: Cultural Nationalism and Oriental Orientalism / reviewed by Suga Yasuko
Noise
A Decade as a Design Journalist / Watabe Chiharu
Guidelines for Submission of Manuscripts
Constitution and Bylaws
Notes on Contributors
–
How to Order Your Back Issues
 
 

Editorial
About the DHWJ
Editorial Policy
Editorial Board and Editorial Advisory Board
---
Article 1
Developing a Collection of Japanese Art in Britain: A Case Study on Yamanaka and Company
Monden Sonoko
Keywords
Yamanaka &Co., Japanese Art and Handicraft, Japanese Art Collecting, Collectors, 1915 the British Red Cross Exhibition, Japan Society
Abstract
Yamanaka & Co., Japanese art dealer, had traded for arts and handicrafts throughout the world since 1890s. The company involved in various activities as selling artifacts to private collectors, business with public institutions, publications of catalogues, holding exhibitions, and production of crafts and furniture, and so on. However, so far the study of the company has been superficial. I limit the discussion to Yamanaka's activities in Britain, and consider how Japanese art collections had formed there. Central to the issue is the 1915 British Red Cross exhibition, mentioned in Chapter 3, which was a loan exhibition showing Japanese arts and handicrafts at Yamanaka's showroom. Examining the exhibition offers the key to an understanding of Japanese art collectors and collections related to Yamanaka in the early Twentieth Century Britain. In those days, staffs of the company advised to British scholars with using expert knowledge. Collectors' community such as Japan Society organized Japanese art collections in museums, and turned out specialists of the specific area. We can recognise that Yamanaka & Co. took an active part in making Britain's Japanese art collections in existence.
---
Article 2
The Influence of Ruskin and Morris on Yamamoto Kanae's Peasant Art Movement
Tsujmoto Yuki
translated by Rochel Saunders
Keywords
Popular Art, Peasant Art, Morris, Ruskin, Yamamoto Kanae
Abstract
The Peasant Art Movement was, founded in 1920 by the print-maker Yamamoto Kanae (1882-1946). In a very short time it had become a national phenomenon, but there has been little research to date on the philosophical foundations of the Movement. This paper addresses the background to the Movement, and the way in which it was received.
The foundations were for the Movement laid with the so-called People's Art Controversy in which Honma Hisao, Kato Kazuo, and a number of other intellectuals participated. The controversy deepened general interest and understanding of People's Art and smoothed the path for the widespread acceptance of Yamamoto's Movement. The ideas of E11en Key and Wi11iam Morris deeply influenced Yamamoto's theory of educational People's Art, which was at the root of his Peasant Art Movement.
The Movement had an educational character from the time of its founding in 1920 until the Great Kanto Earthquake of 1923. After the earthquake it became based much more on economic contingency, and this paper tracks these changes using evidence from contemporary magazines. It also demonstrates that the ideas of Ruskin and Morris were very much part of the philosophical base of the Peasant Art Movement, and that similar aspirations were also circulating in wider society where people were beginning to feel the desire to live in the country, or in so-called 'garden cities'. This trend helped to explain the speed with which Peasant Art spread.
---
Special Contributions
Views on the Japanese Design in the Post-war Period of Reconstruction / Nakayama Shuichi
Design History Research Memories / Toshimitsu Isao
Post-war Design Education / Hino Eiichi
Design Promotion Administration / Koseki Rikiya
Along with the GK Industrial Design Associates / Sone Yasumi
---
Book Reviews
Hara Kenya, Dezain no Dezain (The Design of Design) / reviewed by Harikai Aya
Yuko Kikuchi, Japanese Modernisation and Mingei Theory: Cultural Nationalism and Oriental Orientalism / reviewed by Suga Yasuko
---
Noise
A Decade as a Design Journalist / Watabe Chiharu
---
Guidelines for Submission of Manuscripts
---
Constitution and Bylaws
---
Notes on Contributors