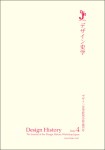 Contents
Editorial
About the DHWJ
Editorial Policy
Editorial Board and Editorial Advisory Board
Articles
Dovetailing East and West: Wells Coates, Japonisme and the British Modern Movement / Anna Basham
Rereading 'William Morris and Æsthetic Socialism' by Iwamura Toru / Nakayama Shuichi
Special Contributions
Design Museums in Japan: Present and Future / Iguchi Toshino
Design Museums in Japan / Kimura Kazuo
The Design Exhibition in Japanese Public Museums / Hashimoto Keiko
Hangaram Design Museum and Design Exhibition Culture in Korea / Kim Sang-kyu
Book Reviews
M. Anna Fariello and Paula Owen eds., Objects and Meaning: New Perspectives on Art and Craft / reviewed by Kikuchi Yuko
Goto Takeshi, Sasaki Masato and Fukazawa Naoto, The Ecological Approach to Design / reviewed by Odaka Naoki
Suga Yasuko, British Society and Design: The Politics of Representing Morris and Modernism / reviewed by Toshimitsu Isao
Noise
Museums in This Country Have Recently Become Too Focused on Education / Hashimoto Yuko
Guidelines for Submission of Manuscripts
Constitution and Bylaws
Notes on Contributors
–
How to Order Your Back Issues
 
 

---
Editorial
About the DHWJ
Editorial Policy
Editorial Board and Editorial Advisory Board
---
Article 1
Dovetailing East and West: Wells Coates, Japonisme and the British Modern Movement
Anna Basham
Keywords
Wells Coates, Architecture, Japan, Britain, Japonisme, Modernism
Abstract
Japanese 'influence' on British design from the mid-1850s until the development of Art Nouveau is generally accepted but during the inter-war period inspiration from Japan is less readily acknowledged. However, this experience continued during the 1920s and 1930s and can be perceived as an important inspiration on Modernist design and architecture, as the work of architect-designer, Wells Coates, demonstrates.
Coates, an eminent member of the British Modem Movement, often referred to his formative upbringing in Japan and it is palpable that this childhood influence had a profound effect upon his work. By an analysis of the designs and writings of Coates, his reference to traditional Japanese architecture and his contribution to Modernism in British design, my PhD research aims to demonstrate the significance of Coates as an important disseminator of knowledge relating to Japan and Japanese architecture.
From my study of the Wells Coates Archive at the Canadian Centre for Architecture, I was able to ascertain, for myself, the extent to which Coates was exposed to Japanese culture whilst growing up in Japan. In this paper I shall demonstrate how these findings have informed my understanding and interpretation of Coates's work.
---
Article 2
Rereading 'William Morris and Æsthetic Socialism' by Iwamura Toru
Nakayama Shuichi
Keywords
William Morris, Socialism, Iwamura Toru, 'William Morris and Æsthetic Socialism', Tomimoto Kenkichi, 'The Story of William Morris'
Abstract
The introduction of William Morris (1834-1896) in Japan started at the beginning of the 1890s. It treated him rather fragmentarily either as poet or socialist. Later in 1912, Tomimoto Kenkichi (1886-1963) the potter-to-be who had studied Morris's work and philosophy in London, published a biographical essay on Morris as craftsman, 'The Story of William Morris', based on Aymer Vallance's account. Then Iwamura Toru (1870-1917), Professor in the History of Western Art at Tokyo School of Art (now Tokyo National University of Fine Arts and Music), enjoyed travels in England before publishing an article, entitled 'William Morris and Æsthetic Socialism' in 1915.
The purpose of this paper is to explore Iwamura's article on Morris and is also to clarify the relationship to Morris between Iwamura and Tomimoto at Tokyo School of Art.
In summary, the first section of my paper shows that there is no evidence for the claimed assumption that Iwamura officially through his lectures taught Morris's work and philosophy to Tomimoto who was a student at the School. This makes it necessary to reexamine how Tomimoto acquired his knowledge of Morris in his student days and why he decided to visit London. Subsequently I clarify that Iwamura not only partly misread Arthur Compton-Rickitt's William Morris, which he used for his own article, but also in his own way presented another image of Morris as socialist which was extremely far from the real one and was not corrected until new studies on Morris's socialism were reopened in the beginning of the 1920s, that is to say, in the peak times of so-called Taisho Democracy.
---
Special Contributions
Design Museums in Japan: Present and Future / Iguchi Toshino
Design Museums in Japan / Kimura Kazuo
The Design Exhibition in Japanese Public Museums / Hashimoto Keiko
Hangaram Design Museum and Design Exhibition Culture in Korea / Kim Sang-kyu
---
Book Reviews
M. Anna Fariello and Paula Owen eds., Objects and Meaning: New Perspectives on Art and Craft / reviewed by Kikuchi Yuko
Goto Takeshi, Sasaki Masato and Fukazawa Naoto, The Ecological Approach to Design / reviewed by Odaka Naoki
Suga Yasuko, British Society and Design: The Politics of Representing Morris and Modernism / reviewed by Toshimitsu Isao
---
Noise
Museums in This Country Have Recently Become Too Focused on Education / Hashimoto Yuko
---
Guidelines for Submission of Manuscripts
---
Constitution and Bylaws
---
Notes on Contributors